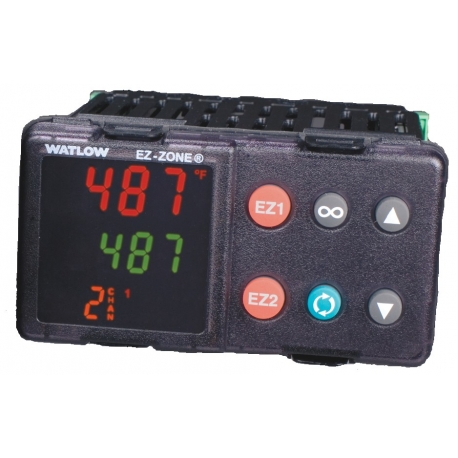  
PM9C1KK-AAAAAAA 1/8-DIN 2-Outputs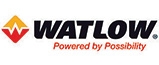 One Universal Input
Output #1 (K) - 0.5A Solid State Relay (Form A)
Output #2 (K) - 0.5A Solid State Relay (Form A)
Operating Voltage 100 to 240VAC
Auto-Tune PID Controller with Extensive Menu Options
Standard Bus Communications
Security policy
(edit with the Customer Reassurance module)
Delivery policy
(edit with the Customer Reassurance module)
Return policy
(edit with the Customer Reassurance module)
WATLOW EZ-ZONE
® 

PM9C1KK-AAAAAAA
This unit can control a compressor, motor, pressure, valve, humidity, as well as thermal processes.
The serial communications when used with the free WATLOW software, saves time of controller setup.
P3T armor sealing system Complies to NEMA 4X, IP66
Updated EZ-ZONE® Features
Universal Input
This can be a thermocouple grounded or ungrounded
It can be an RTD 2-wire or 3-wire
It can be 0-20mA or 0-50mV
Solid State Relay Form A Specifications:
Maximum Resistive Load 0.5A at 20 ~ 264VAC
Rated For Pilot Duty 20VA 120/240VAC
Single Pole Single Throw Normally Open Contact
Opto Isolated Without Contact Suppression
Off State Leakage Maximum 105mA
Output Does Not Supply Power
Not for use on DC Loads
---
NOTE: Switching Pilot Duty Devices Such As Control Coils For Relays Or Contactors Produces An Electro-Magnetic Force When De-Energizing Those Type Of Loads. To Protect The Controller's Electronic Circuitry From The Inductive User Load, The Use Of An RC Suppressor Also Known As A Snubber Device Should Be Wired Between The Load And The Load Output Terminal Of The Controller. An Exception Is The Use Of Watlow Solid State Relays Having Internal RC Suppression.
Two Wire Bus Communication Interface Type EIA-485 Also Known As RS-485 Comes Standard With All PM Series Controllers Which Can Provide An Easy Alternative to Setting Up Program Menu Options. Various Profiles Can Be Configured And Saved As Files And Can Be Up Loaded To Other PM Controllers. USB To Serial Converter Is Required To Connect The PM Controller To Any Computer With A USB Port.
Review the above tabs for Data Sheets, FAQ's & Attachments for more specifics and operator's manual.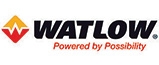 Data sheet
PROGRAM FEATURES

Advanced Auto-Tune PID Control Algorithm

AGENCY APPROVALS

UL Listed, CSA, CE, RoHS, W.E.E.E. FM

WARRANTY

Three Years

OTHER FEATURES

IP2X Increases Safety For Installers And Operators