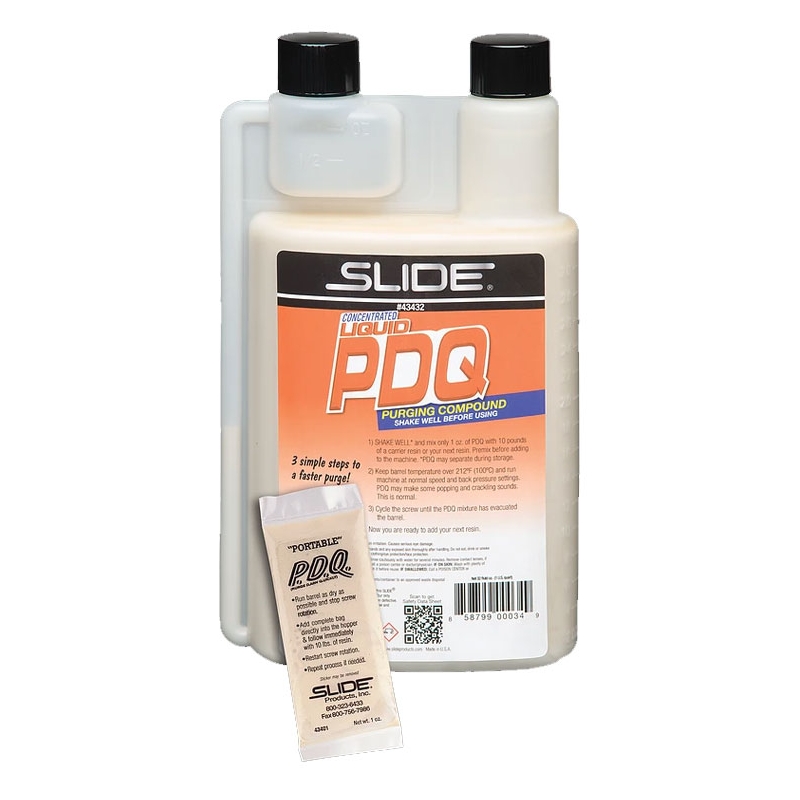  
Slide 43432 P.D.Q. Purging Compound 32-oz Bottle

Concentrated liquid purging compound
Water-based additive (use with barrel temperature above 212'F/100ºC)
Can be mixed with any carrier resin
Aids with resin-to-resin and color-to-color purges
Choose self-measuring bottle or pre-measured packets
Works with a carrier resin to remove unwanted contamination from the barrel assembly
Security policy
(edit with the Customer Reassurance module)
Delivery policy
(edit with the Customer Reassurance module)
Return policy
(edit with the Customer Reassurance module)
Slide 43432 P.D.Q. Purging Compound 32-oz Bottle
Slide 43432 P.D.Q. (32-oz bottle) no-soak, no-mess, easy-to-store purge solution that works with the carrier resin to remove all thermoplastics effectively whether in resin-to-resin or color-to-color changes. Acrylic resin inventory required. Unique self-measuring bottle "meters out" just the right amount of concentrate. Works for blow molding, extrusion molding, and injection molding.
Slide 43432 MSDS Available from the attachments tab along with instructional videos.
---
NOTE: Slide Products are developed for plastics processors and fabricators, including mold and tool builders or MRO applications in general industry. They are not formulated for home use. These products will not be shipped to a residential address and are not intended as retail products.