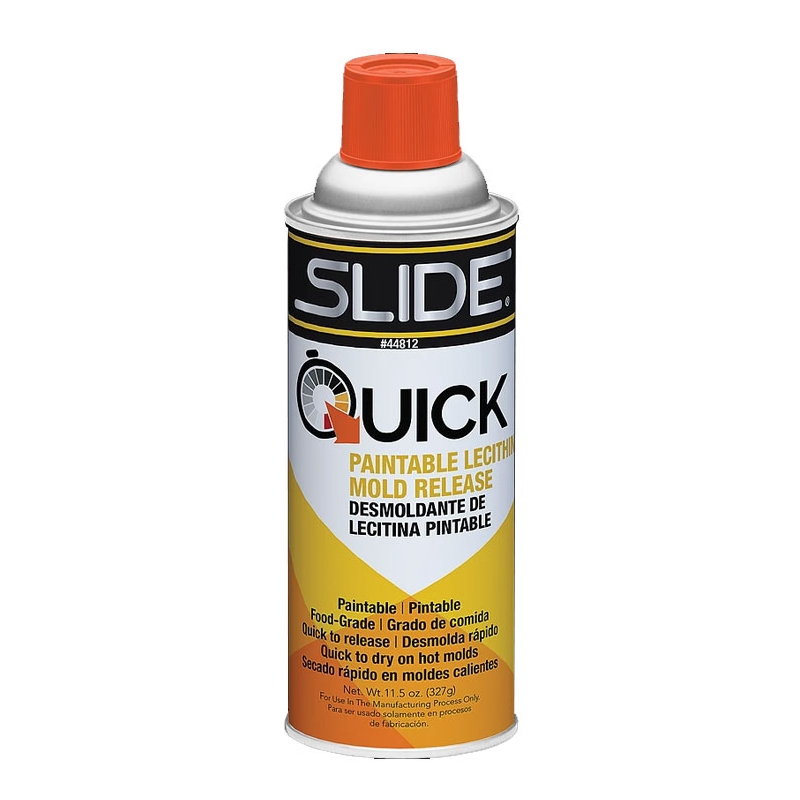  
Slide 44812 Quick Lecithin Medium Duty Mold Release

Paintable, non-silicone mold release
Food-grade active ingredient (††††)
Fast-drying on cold and hot molds
No chlorinated solvents
Maximum operating temp: 500°F/260°C †††† 21CFR 184.1400 (GRAS)
Security policy
(edit with the Customer Reassurance module)
Delivery policy
(edit with the Customer Reassurance module)
Return policy
(edit with the Customer Reassurance module)
Slide 44812 Quick Lecithin Medium Duty Mold Release
Slide 44812E Quick Lecithin Medium Duty Mold Release imparts a smooth, dry film so you can begin production immediately. Lecithin is food-approved and paintable. non-silicone formula will not interfere with part bonding, heat sealing, laminating, ultrasonic welding or post-decorating.
Slide 44812E MSDS Available from the attachments tab along with instructional videos.
---
NOTE: Slide Products are developed for plastics processors and fabricators, including mold and tool builders or MRO applications in general industry. They are not formulated for home use. These products will not be shipped to a residential address and are not intended as retail products.
How to effectively use mold releases to maximize production
---
How to safely protect molds with Rust Preventives
---
How to use the simple plug-and-play Freedom automatic spray unit
---
Purging procedures for injection molders
---
How to properly lubricate ejector pins
---
How to properly clean a tool steel mold