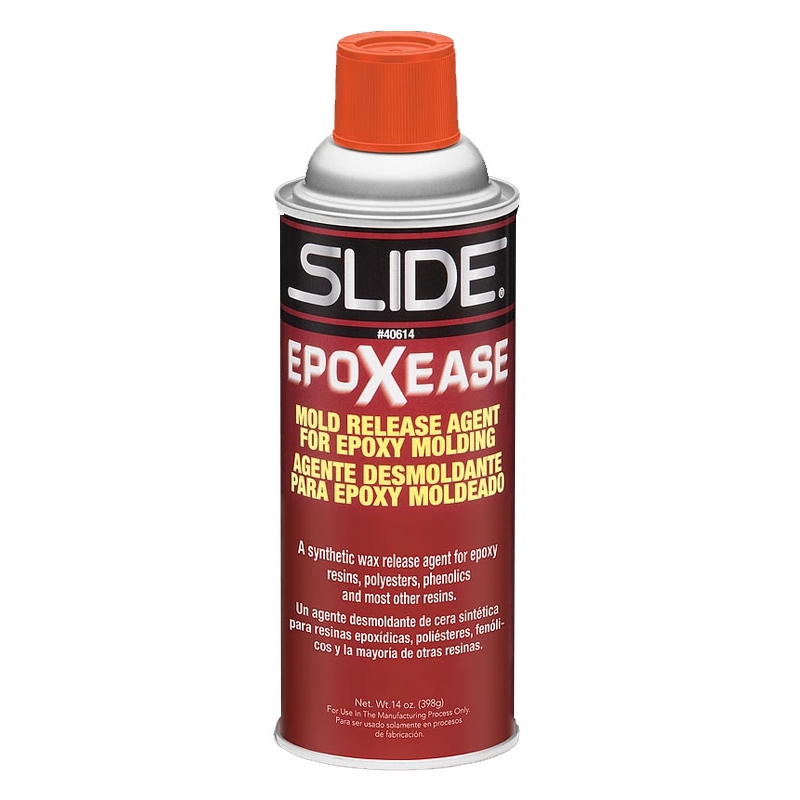  
Slide 40614 EpoxEase® Mold Release

Non-silicone, synthetic wax-based product
For epoxy, polyester and phenolic resins
For injection molding, encapsulating, potting
No chlorinated solvents
Maximum operating temp: 450°F/232°C
Bulk versions of this product should be thoroughly stirred prior to use
Security policy
(edit with the Customer Reassurance module)
Delivery policy
(edit with the Customer Reassurance module)
Return policy
(edit with the Customer Reassurance module)
Slide 40614 EpoxEase® Mold Release
Slide 40614 is a synthetic wax-based, non-silicone mold release. It is formulated to prevent the sticking commonly seen when using all-purpose release agents on epoxies, maximizing your productivity.
Slide 40614 MSDS Available from the attachments tab along with instructional videos.
---
NOTE: Slide Products are developed for plastics processors and fabricators, including mold and tool builders or MRO applications in general industry. They are not formulated for home use. These products will not be shipped to a residential address and are not intended as retail products.
How to effectively use mold releases to maximize production
---
How to safely protect molds with Rust Preventives
---
How to use the simple plug-and-play Freedom automatic spray unit
---
Purging procedures for injection molders
---
How to properly lubricate ejector pins
---
How to properly clean a tool steel mold