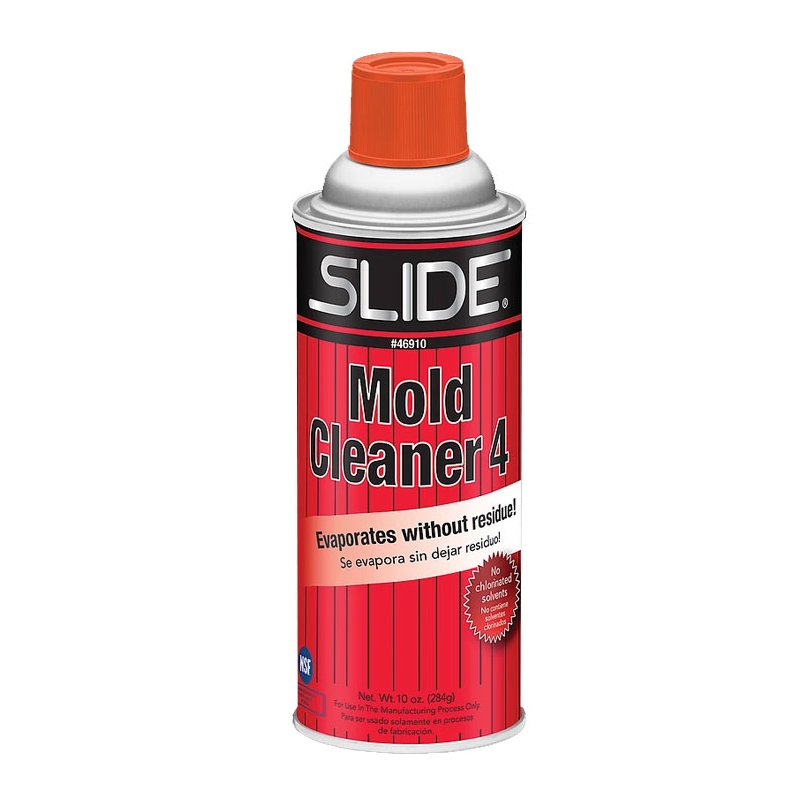  
Slide 46910 Mold Cleaner Plus Degreaser IV

Slide's most popular mold cleaner formulation
NSF category P1
Evaporates fast, leaves no residue
Contains no chlorinated solvents
NSF-certified as safe for use on food machinery and molds
Security policy
(edit with the Customer Reassurance module)
Delivery policy
(edit with the Customer Reassurance module)
Return policy
(edit with the Customer Reassurance module)
Slide 46910 Mold Cleaner Plus Degreaser IV
Slide 46910 contains no chlorinated solvents and provides a convenient method for removal of silicones, grease, oil and wax build-up on mold surfaces, etc. Without the need for wiping. Ideal for cold molds, it leaves no residue so it cleans without wiping. It has a fast evaporating formulation, is non-conductive and non-abrasive. Available in aerosol cans as well as in liquid containers.
Slide 46910 MSDS available from the attachments tab along with instructional videos.
---
NOTE: Slide Products are developed for plastics processors and fabricators, including mold and tool builders or MRO applications in general industry. They are not formulated for home use. These products will not be shipped to a residential address and are not intended as retail products.