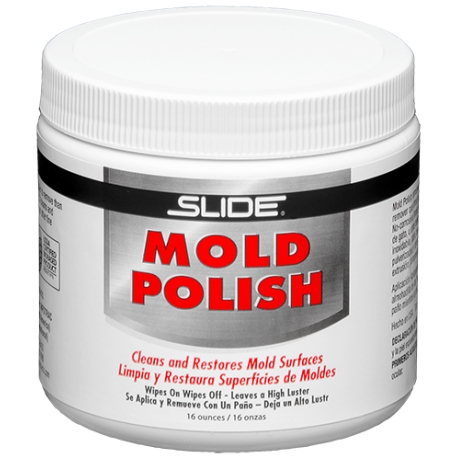  
Slide 45216 Mold Polish Injection Mold Cleaner

Paste-type mold polish
Cleans and restores mold surfaces
Removes plate-out, oxidation and stains
No chlorinated solvents
Brings surfaces to a high luster
Effective polish on tool steel, stainless, aluminum, brass, bronze, zinc and other metals
USDA certified bio-based product
Security policy
(edit with the Customer Reassurance module)
Delivery policy
(edit with the Customer Reassurance module)
Return policy
(edit with the Customer Reassurance module)
Slide 45216 Mold & Metal Polish Bottles
Slide 45216 Mold & Metal Polish safely removes plate-out, oxidation, other polishes and stains on tooling surfaces. It wipes on and off without leaving a residue. Applied with a soft cotton cloth or buffing wheel, it cleans & shines surface cavities & cores during plastics processing. Restores surface finish, while providing a high, luster sheen.
Slide 45216 MSDS Available from the attachments tab along with instructional videos.
---
NOTE: Slide Products are developed for plastics processors and fabricators, including mold and tool builders or MRO applications in general industry. They are not formulated for home use. These products will not be shipped to a residential address and are not intended as retail products.