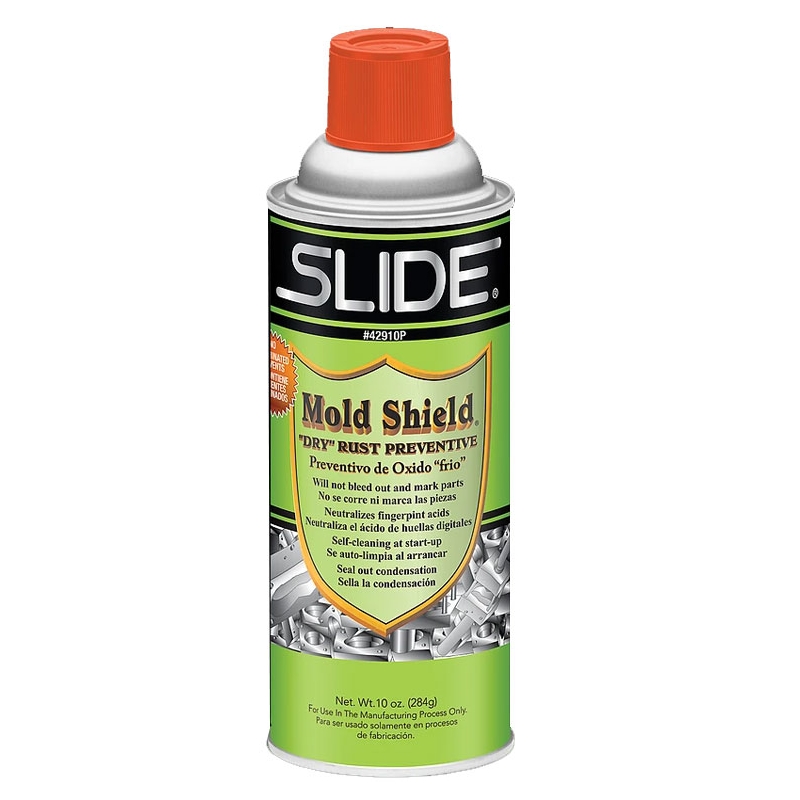  
Slide 42910P Mold Shield Rust Preventative & Inhibitor

Neutralizes Fingerprints
Non-Silicone / Non-Wax
Self-Cleaning In Start-Up
Seals Out Condensation
Does Not Leach Out Of Mold Crevices And Mark Parts
No Ozone Depleting Chemicals
Excellent Overnight Protection
10/Oz Net Weight Aerosol Can
Security policy
(edit with the Customer Reassurance module)
Delivery policy
(edit with the Customer Reassurance module)
Return policy
(edit with the Customer Reassurance module)
Slide 42910 Mold Shield Rust Preventative & Inhibitor
Slide 42910 Mold Shield is a unique formula which delivers an ultra-dry, non-penetrating mist into moving mold parts, including ejector pin holes, slides, and cams.  Mold Shield protects up to two years under normal indoor storage conditions without marking of plastic parts when molds are put back in service.
Slide 42910 MSDS Available from the attachments tab along with instructional videos.
---
NOTE: Slide Products are developed for plastics processors and fabricators, including mold and tool builders or MRO applications in general industry. They are not formulated for home use. These products will not be shipped to a residential address and are not intended as retail products.