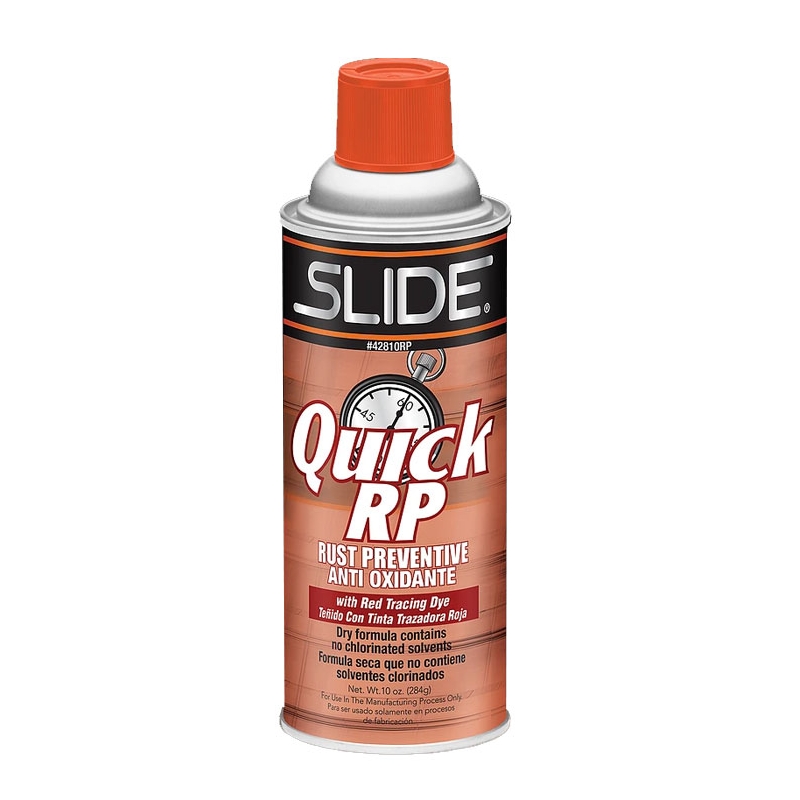  
Slide 42810RP Quick Rust Preventive

Red tracing dye helps ensure complete coverage
2-year protection*
Will not bleed out and mark parts
No chlorinated solvents
Unique "dry" formula
Neutralizes fingerprint acid
Non-silicone, non-wax formulation
Seals out condensation
Bulk versions of this product should be thoroughly stirred prior to use *Protects up to two years under normal indoor storage conditions
Security policy
(edit with the Customer Reassurance module)
Delivery policy
(edit with the Customer Reassurance module)
Return policy
(edit with the Customer Reassurance module)
Slide 42810R Quick Rust Preventive
Slide 42810R Quick Rust Preventive features a combination of fast evaporating solvents and oils to set up quickly on your mold surfaces, employing a harmless red dye for indicating covered area. Provides immediate protection against moisture and light acids. This unique "dry" formula with self-cleaning in start-up makes clean-up quick and easy when the mold is put back into production.
Slide 42810R MSDS Available from the attachments tab along with instructional videos.
---
NOTE: Slide Products are developed for plastics processors and fabricators, including mold and tool builders or MRO applications in general industry. They are not formulated for home use. These products will not be shipped to a residential address and are not intended as retail products.