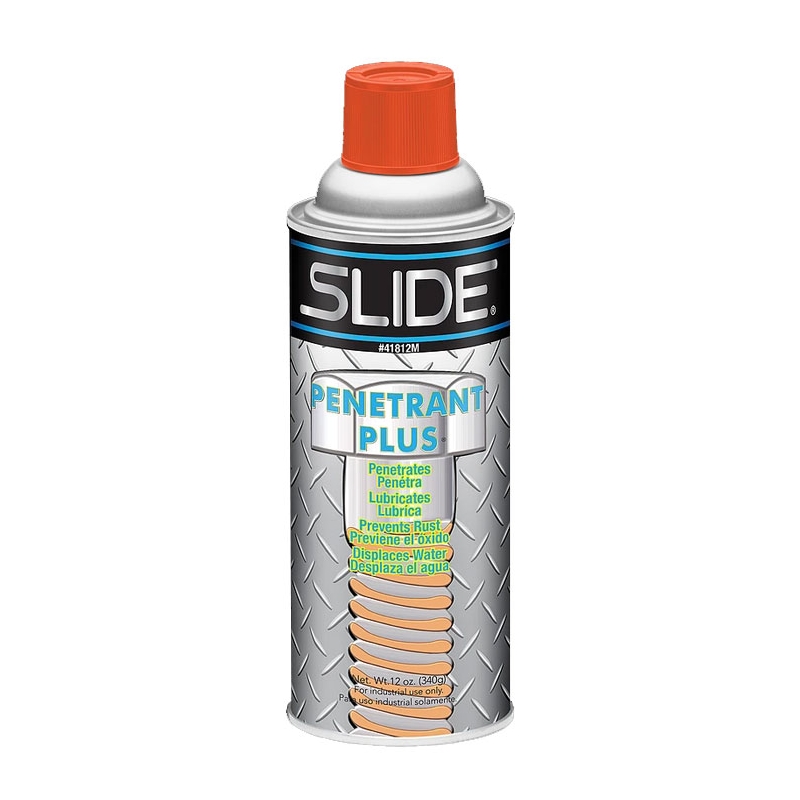  
Slide 41812M Penetrant Plus Lubricant

Non-silicone, PTFE-based formulation
Penetrating formulation helps free rusted or frozen metal components
Displaces moisture and leaves a protective film
No chlorinated solvents
Choice of spray or stream aerosol pattern
Harmless to most plastics, rubber, paint, etc.
Meets California CARB VOC standards
Security policy
(edit with the Customer Reassurance module)
Delivery policy
(edit with the Customer Reassurance module)
Return policy
(edit with the Customer Reassurance module)
Slide 41812 Penetrant Plus Lubricant
Slide 41812 Multi-Purpose Mono-Molecular Penetrating Oil Frees Rust-Frozen Parts. Lifts & replaces moisture with a protective film. It's dielectric non-conductive properties are ideal for lubricating electrical equipment including delicate electronic devices without affecting their intended performance. Penetrant Plus is harmless to most plastics, rubber, & paints.
Slide 41812 MSDS Available from the attachments tab along with instructional videos.
---
NOTE: Slide Products are developed for plastics processors and fabricators, including mold and tool builders or MRO applications in general industry. They are not formulated for home use. These products will not be shipped to a residential address and are not intended as retail products.