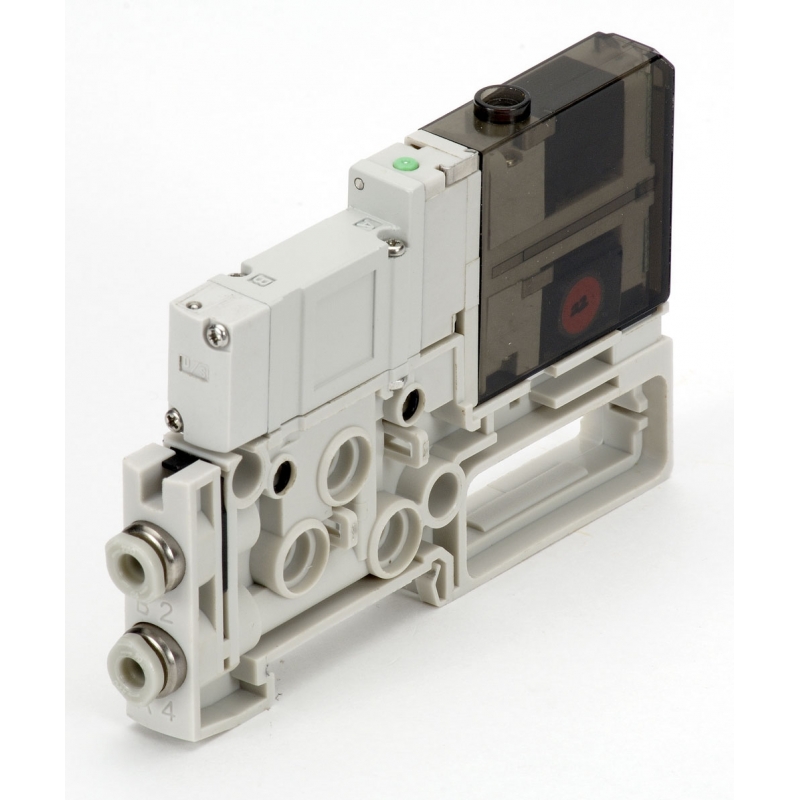  
TP12C4D-012-M Double Solenoid with Manifold 12v DC

4-Way 2 Position/Spring Return
Double Solenoid with Manifold 24v DC
Valve with Manifold - TP12C4D-012-M
Security policy
(edit with the Customer Reassurance module)
Delivery policy
(edit with the Customer Reassurance module)
Return policy
(edit with the Customer Reassurance module)
10mm Plug and Play - TP12C4D-012-M
Operating Pressures
2-Position Single: 21.8 to 101.5 p.s.i. (1.5 -7.0 bar)
2-Position Double: 14.5 to 101.5 p.s.i. (1.0 -7.0 bar)
3-Position Double: 29.0 to 101.5 p.s.i.(2.0 -7.0 bar)
Operating Medium: Compressed Air only
Temperature: 23° to 122° F (-5° tp 50° C)
Coil Voltage: 12, 24 VDC (± 10%)
Power Consumption: 085 Watts
Flow: 0.22 Cv (4.0mmÇ)
---
Features

Push-In Fitting Standard 5/32", 1/4" inlet
High speed responsiveness and flow
Less than 12ms response time
Low power consumption
Compact and High Flow Rate
Plug In Valve No wiring needed for installation
Modular Type Manifold
Each base is installed individually, so adding or removing another base is simple.
Wiring Method Usage of D-Sub connector, or Flat Cable connector, Substitute the D-Sub connector and Flat Cable connector with ease
Safety RoHS, UL, (In process of receiving CE mark.)
Easy to add SUP/EXH Blocks There is no limit to the addition of SUP/EXH Blocks It can be applied for dual pressure & back pressure applications.
Review the above tabs for Assembly Instructions, FAQ's & Attachments for more specifics.