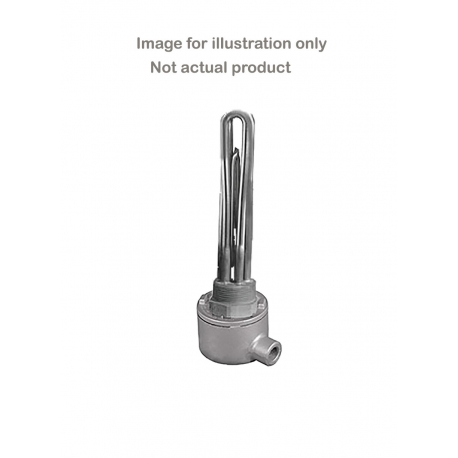  
BLR714L5C screw plug immersion heater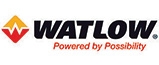 Comes wired 480v 3-phase delta in an explosion proof wiring enclosure
It has (3) 316-ss passivated 14.625-inch immersed length heating elements
with epoxy resin end seals rated at 194ºF and provide up to 6kw
Also included is an integral thermowell for a sensor (sensor not included)
The heater has no heat the first 2.1875-inches from the 2-1/2-inch NPT screw plug
and has an approximate shipping weight of 12/Lbs.
Security policy
(edit with the Customer Reassurance module)
Delivery policy
(edit with the Customer Reassurance module)
Return policy
(edit with the Customer Reassurance module)
2-1/2"NPT screw plug immersion heater | BLR714L5C
Applications that require heating Deionized/Demineralized water
Manufacturing cosmetics and personal care products
Steam boilers and cooling systems
Electronics manufacturing
Car washes
Medical and pharmaceutical manufacturing
Cleaning processes
Manufacturing lead-acid batteries
Features & Benefits of the Watlow® immersion heater
The integral thermowell provides a convenient method for temperature sensor insertion and allowing a replacement without draining the fluid being heated. The WATROD™ hairpin bend is re-compacted to maintain the mineral insulation density and maintain the dielectric strength and heat transfer efficiency. The heating element has a bright annealing passivation for corrosion resistance.
NOTE: A NEMA-7 enclosure designated for locations classified as Class-1, Division-1, Groups A,B,C, or D as defined in NFPA 70 is installed on this heater; however, is NOT CERTIFIED as installed on the heater. To obtain CSA certification as explosion proof Class-1, Groups B,C,D as installed on the heater, the end user must provide Watlow® the following intended process conditions: operating temperature, operating pressure, media type being heated, including the installation orientation of the heater (horizontal or vertical).
One conduit hub is supplied as per drawing.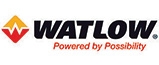 Data sheet
Enclosure

Nema 7 & 4 hazardous & wet proof

Thermostat

not included

Line power

480v AC 3-phase delta

Wattage

6000 watt

Mounting

2-1/2" NPT screw plug

Immersion Length

14.625"

Weight

12-lbs