Watlow Din-A-Mite®C Power Controller
Din-A-Mite C Features
The Din-A-Mite 'C' power controllers are available for zero cross switching and phase angle switching. Selectable features include single phase, three phase 2-leg or 3-leg control for power voltages 24Vac up to 600Vac. The current ratings range from 30A to 80A and is determined by the actual ambient temperature of its enclosure. The control output options are model number dependant and are available for variable time base, linear voltage, current process, as well as on/off voltage either AC or DC and single-phase angle-phase with current limitng capability. This power controller is tested for a 200K-amp short-circuit rating based on 480Vac to minimize damage in the event of a short circuit when used with required fusing.
Din-A-Mite C Configurations
The size 'C' Din-A-Mite power controller is available in single phase (series DC10), three phase 2-Leg control (series DC20) and three phase 3-Leg control (series DC30).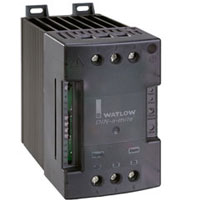 Din-A-Mite C series (DC10) ratings
70A@77°F thru 104°F
59A@113°F  55A@122°F
51A@131°F  48A@140°F
44A@149°F  40A@158°F
36A@167°F  32.5A@176°F
Din-A-Mite model numbers Line & Load Voltage 24~48Vac Single Phase
Din-A-Mite model numbers Line & Load Voltage 100~240Vac Single Phase
Din-A-Mite model numbers Line & Load Voltage 277~600Vac Single Phase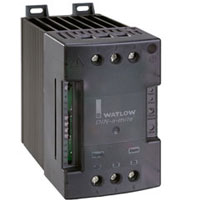 Din-A-Mite C series (DC20) ratings
52A@77°F  50A@86°F
48A@95°F  45A@104°F
42.5A@113°F  40A@122°F
37.5A@131°F  35A@140°F
33A@149°F  30A@158°F
27A@167°F  25A@176°F
Din-A-Mite model numbers Line & Load Voltage 24~48Vac Three Phase Two Leg Control
Din-A-Mite model numbers Line & Load Voltage 100~240Vac Three Phase Two Leg Control
Din-A-Mite model numbers Line & Load Voltage 277~600Vac Three Phase Three Leg Control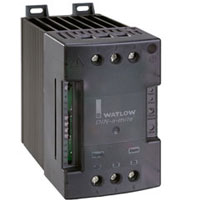 Din-A-Mite C series (DC30) ratings
42A@77°F  40A@86°F
37.5A@95°F  35A@104°F
33A@113°F  30A@122°F
28A@131°F  25A@140°F
23A@149°F  21A@158°F
18.5A@167°F  16A@176°F
Din-A-Mite model numbers Line & Load Voltage 24~48Vac Three Phase Three Leg Control
Din-A-Mite model numbers Line & Load Voltage 100~240Vac Three Phase Three Leg Control
Din-A-Mite model numbers Line & Load Voltage 277~600Vac Three Phase Three Leg Control