Watlow Din-A-Mite®D Power Controller
Din-A-Mite D Features
Depending on the various models available of the Din-A-Mite 'D' power controllers, control inputs are available for variable time base, linear voltage, current process, as well as on/off voltage either AC or DC capable of zero cross switching up to 100 Amps 600V single-phase at 86°F (30°C). The current ratings range from 50A to 100A depending on the ambient temperature of its enclosure and combining the input of two or three controllers, three phase control can be achieved. This power controller has a 200K-amp short circuit current rating (SSCR) tested up to 480Vac to prevent arch flash with required fusing.
Din-A-Mite D Configurations
The size 'D' Din-A-Mite power controller is available in line & Load voltage ranges 24~48Vac, 100~240Vac, 277~480Vac, 277~600Vc single phase.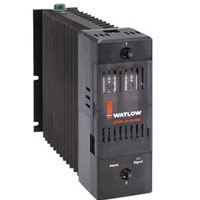 Din-A-Mite D series current ratings.
50A@176°F (80°C)
55A@167°F (75°C)
60A@158°F (70°C)
65A@149°F (65°C)
70A@140°F (60°C)
75A@131°F (55°C)
80A@122°F (50°C)
85A@113°F (45°C)
90A@104°F (40°C)
95A@95°F (35°C)
100A@86°F (30°C)