Temperature & Process Controllers
A Variety of Flexible Controllers from Watlow®
Watlow® controllers are designed with Tru-Tune®+ adaptive PID control, for a broad range of applications to control temperature, relative humidity, material flow/levels, position, PH levels and other process variables used in commercial and industrial applications. The variety of Watlow® controllers range from UL®508A agency certified assembled control panels, individual panel mount controllers, and scalable modular din rail mount controllers all with easy to understand user manuals to quickly implement an effective process control.
Watlow Ez-Zone Series Controllers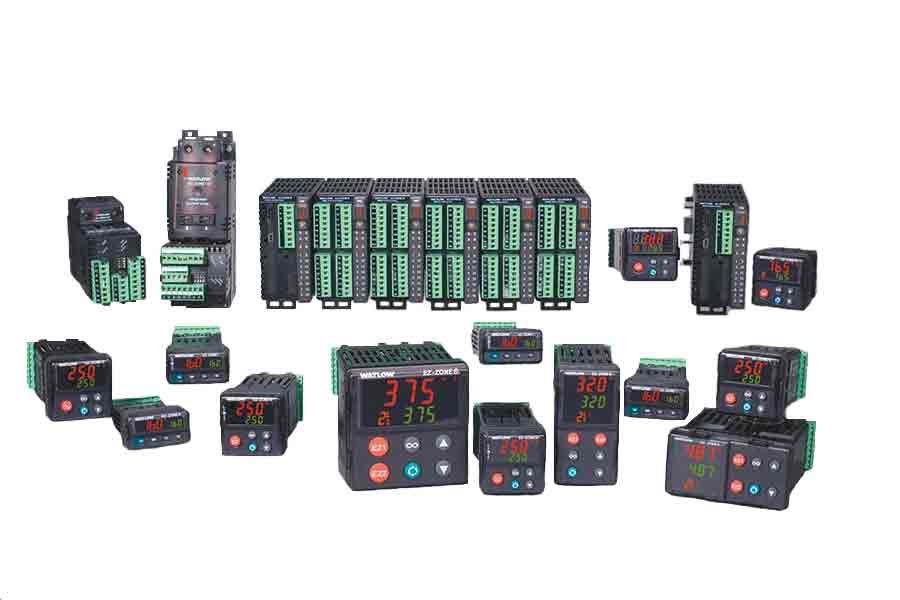 The EZ-ZONE series controllers are available in three configurations. The "EZ-Zone PM" a front panel mount controller, the "EZ-Zone ST" a back panel or din rail mount scalable control package, and the "EZ-Zone RM" a multi-modular multi-functional din rail mount controller system. All Ez-Zone controllers are Micro-Processor Based and feature Serial Bus Communications, Programable Menu System, Multiple Agency Certifications and a Three Year Warranty
Watlow F4 Series Controllers

The F4 series controllers are 1/4-Din size front panel mount controllers available in three basic models. A single channel PID process/temperature controller, A single channel ramp/soak controller and a dual channel ramp/soak model. All three models use a 16-bit micro-processor and a four line high definition interface LCD display.
Watlow F4T Series Controllers

The F4T series controllers are 1/4-din front panel mount size. The user interface features a 4.3" high resolution color graphical touch screen panel. This controller has capability of one to four PID control loops and is fully programable for ramp/soak and over/under limit controls. This is Watlow's latest technology.
Watlow CV series Controllers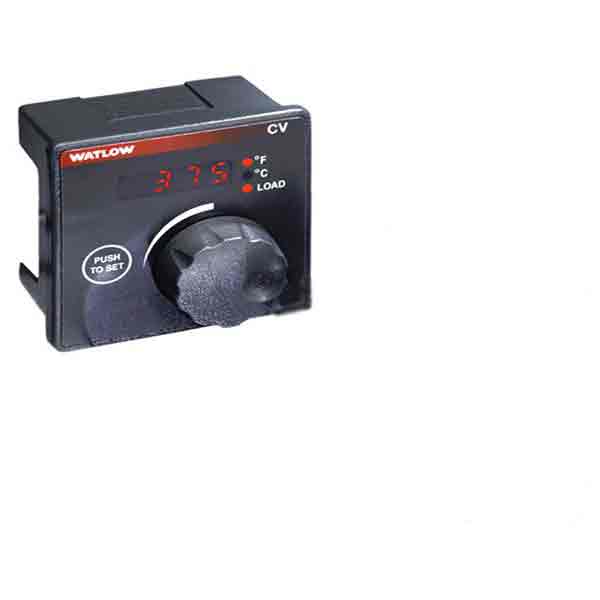 The CV series controllers are available in a 1/8-Din square size front panel mount and a din rail mount package. This is an economical micro-processor on/off controller with a four character display and a rotary dial for set point selection.
Watlow CF series Controllers

The CF series controllers are available in a 1/8-Din square size front panel mount or a din rail mount and an open board design. This micro-processor controller is a fixed setpoint either heat or cool controller and can be ordered with or without an indicating display.
Watlow UL®508A Control Panels

Watlow control panels are pre-assembled custom designed utilizing an Ez-Zone PID controller, Ez-Zone Limit controller, Din-A-Mite power controller, Control Transformer, Fusible Disconnect Switch, Three Position Illuminated Selector Switch, Load and Control Fusing, Load and Sensor Terminal Blocks, all in a Nema-4 Enclosure.