EZ-ZONE® ST Controller
A Scalable Modular PID Controller
The Ez-Zone® ST is a complete thermal system controller in a compact touch safe modular package that can be either DIN rail or back panel mounted.  The modular base measures less than 4" wide and is just under 8" long (vertical) and less than 1-1/4" deep.  Standard features are a micro-processor based PID controller utilizing Watlow's
Tru-Tune®+
adaptive control and serial communications for fast and easy configuration and set-up via a PC or laptop using free software provided by Watlow®.  An internal built-in SSR driver is included for controlling a user selected load switching SSR up-to 90A.  Optional components such as a relay heat sink, over/under controller, and an electro-mechanical contactor with power supply for power safety shutdown can also share the same modular base and only add an additional 5" to the depth of the complete package.
The Ez-Zone®ST has program selectable universal input for:
Thermocouple either grounded or ungrounded
RTD sensor either two or three wire
Process signal either 0~20mA or 0~10vDC
Potentionmeter
Scalable
Inverse scaling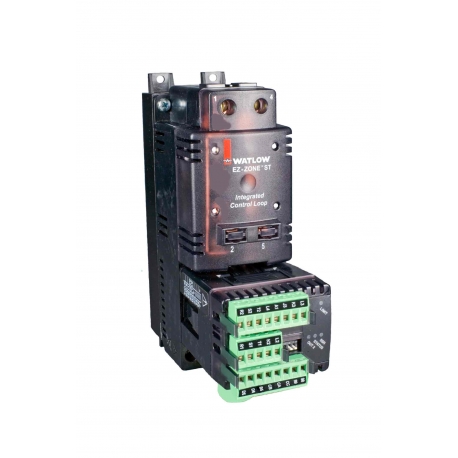 Ez-Zone®ST user options
Load switching zero cross solid state relay
Load switching phase angle solid state relay
Heat sink for solid state relay
Safety shutdown definite purpose electro-mechanical relay
Over/Under controller
Burned out heater or failed SSR current monitoring
Remote user interface with network capability Ez-Zone®EZKB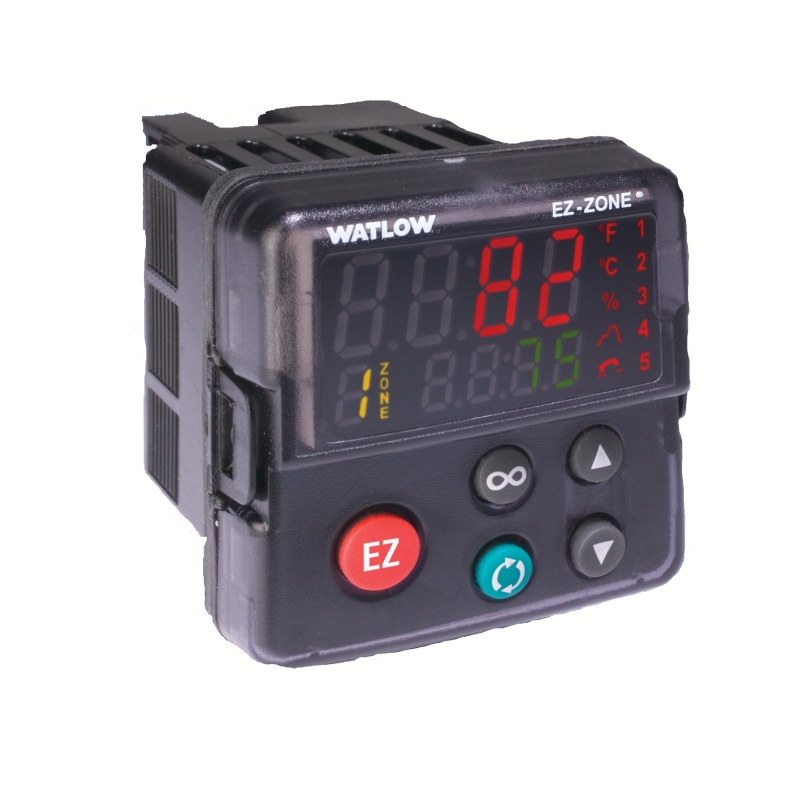 Ez-Zone®ST Control Features
User selectabe: Heat/Cool, On/Off, P, PI,PD,PID or Alarm action
Auto Tune with Tru-Tune®+ adaptive control algorithm
Control sampling rates: input= 10-Hz, outputs= 10-Hz
Four Ramp/Soak profiles with 40 total steps
Real time clock and Battery backup
Retransmit input signal for remote recording
The Ez-Zone®ST controllers are programmed by menu driven choices that help simplify operator control.  The controller has a 200kA short circuit rating tested up to 480vAC when used with required fusing.  The compact touch safe design complies with IP2X and has agency approvals from UL® CSA, CE, RoHS, and W.E.E.E. all with a three year warranty.