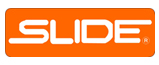 Mold care Products for Injection Molding
---
This page is your guide to choosing the best products for effectively being more productive. Mold Release Agents, Lubricants, Cleaners & Degreasers, Purging Compounds, Rust Preventives, and Cutting & Tapping Oils, all carefully formulated to economically and safely maximize your productivity. Select from the product categories below to view the various formulas available for that catagory.  For recommended procedures in the use of Slide products check out these  Slide Videos. 
---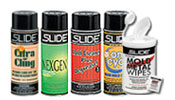 Cleaners & Degreasers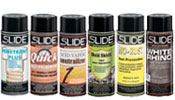 Antioxidants & Rust Preventives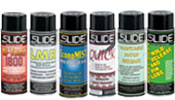 Mold Release Agents
---
NOTE:
Slide Products are developed for plastics processors and fabricators, including mold and tool builders or MRO applications in general industry. They are not formulated for home use.  These products will not be shipped to a residential address and are not intended as retail products.