Ingersoll Rand ARO-Flo Airflow Parts
ARO-Flo Airflow Parts Details.


T-Bracket Wall Mount
T-Bracket Wall Mount is standard on all combo units.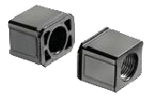 Modular Pipe Adapter
Use of Modular Threaded Pipe Adapters allow for ease of service by allowing a unit to be quickly removed from the air line. Adapters can be used to pip different thread sizes in the plumbing set-up.


Lock-Out Valve
By utilizing a Modular Lock-Out Valve the user can close off the downstream air supply for maintenance and pressure isolation. Units are threaded for direct plumbing or can be installed in the modular arrangement.


Soft Start Valve
ARO-Flo Soft Start Valve allows system pressure to build gradually, protecting downstream equipment and creating a safer start-up condition.


Filter Life Indicator
This optional Filter Life Indicator works off of pressure differential to show a visible alert when the filter needs replacement.


Thumb Locking Switch
The positive locking thumb switch engages with an audible click, and visually aligns to the locking symbols.
Watch the bowl change video in the above airflow animation.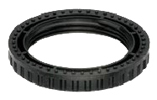 Panel Nut
Panel Nut is standard on all ARO-Flo Regulators and Piggybacks.


Tamper Kit
Tamper Kit is optional and installs fast and prevents adjustment of the regulated pressure.


Gauge Fan
This adjustable easy-to-follow display conveniently allows operator to monitor the pressure targeted range.


Check Valve
The ARO-Flo Check Valve is typically installed downstream of the Regulator. It is used to help prevent downstream pressure from moving upstream of the valve in the event of upstream pressure loss.


Manifold Port Block
The installation of a Manifold Port Block enables design flexibility by allowing clean, regulated air to be diverted to other applications.


Pressure Switch
The Pressure Switch is typically threaded into a Manifold Port Block, and allows the sensing of high or low pressure thresholds set by the user.


Sight Dome
The oil drip rate is controlled by adjusting the sight dome. You can adjust by screw in clockwise or counter-clockwise direction.


Auto-Fill
The Auto-Fill is a standard option on all ARO-Flo Lubricators. TIP: vLubricating oil can be added while lubricators are under pressure.
---